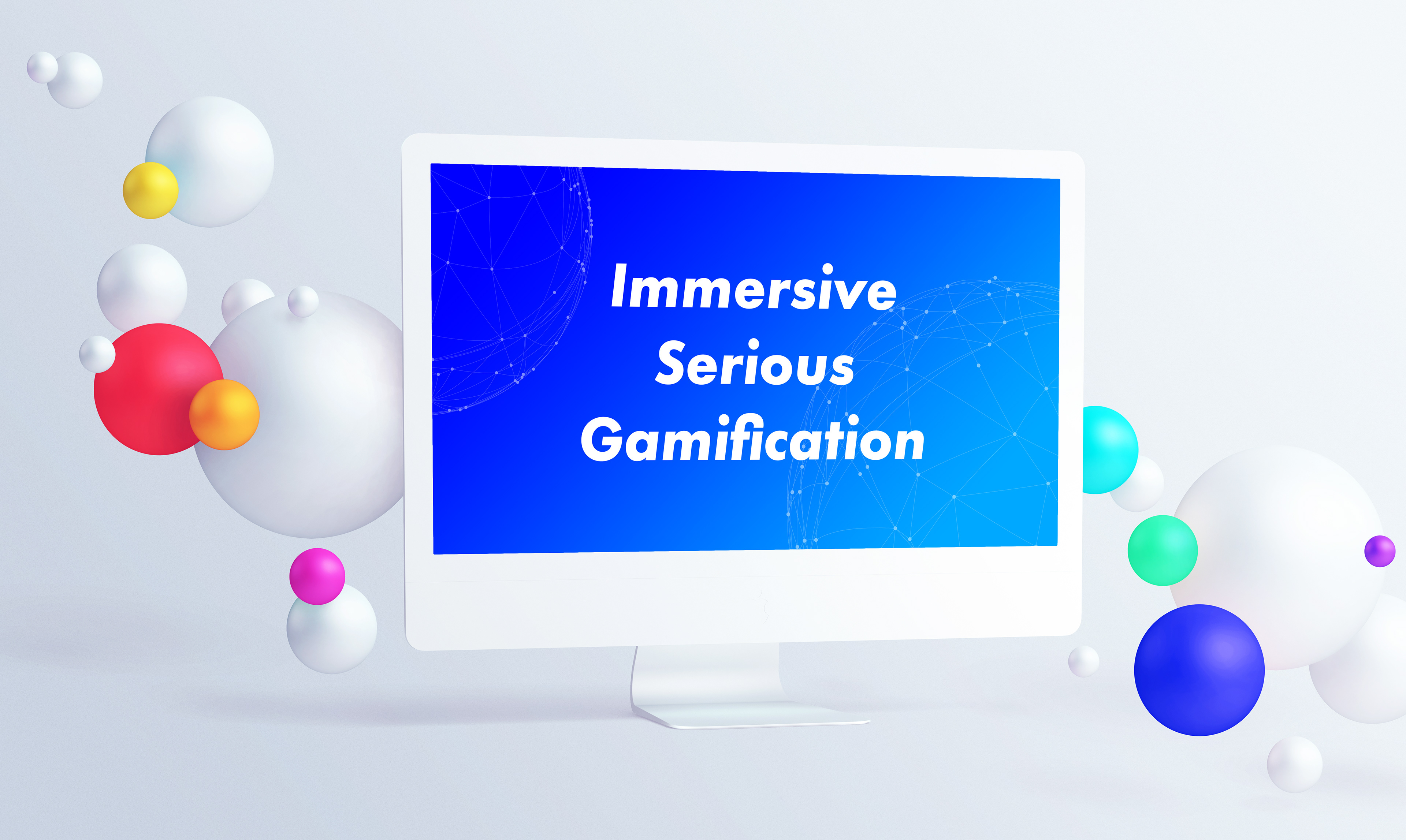 Project Brief
The EU Policy Lab together with the European Commission Joint Research Centre, the Directorate‑General for Communications Networks, Content and Technology and other local authorities in different countries such as Camden Council Policy Lab in the UK, engaged us asking to create foresights of future model of governance. The requested outcome is to create provocative concepts that investigate possible implications and consequences of applying a specific future model of governance. This has to be created keeping in mind the final aim: provoke discussion among citizens and policymakers.
EU Policy Lab blog post about project
Team
Michele Cipollone, Rui Lu, Runqiong Wang and Sujin Park. 
Client
European Commission's Joint Research Centre(JRC) in collaboration with the Public Collaboration Lab, Camden Council
My role
Participated in the entire research process, Designed all visual contents including infographics, keynote, directing and shooting stop motion animation video.
"What if the government uses Immersive Serious Gamification 
to involve citizens in decision making?"
Project Background
Immersive Serious Game is a platform that enables to every citizen to play the role of the mayor, making policies inside of his or her own virtual version of the council in which he is living. The platform provide a background starting point that is based on the real-time data sets of the council and of the city from which everyone starts from.​​​​​​​
Design process
The combination of AI, Virtual Reality (VR) and Serious Gaming help government to develop and check with citizens the best policy making possible to go towards their preferred future scenario. 
Strong Artificial Intelligence (sAI) will create a server through which will be possible for each citizen to access a virtual copy of the city or council starting from a similar background based on the city data-sets. The players will be able play solo the role of the policymaker inside ISG. Different themes/ challenges will be suggested to the participants by sAI and they will decide whether to take them into account or not, making their own plans. Afterwards they will be able to make the policies the find apt to each situation. Doing so, sAI will gather, analyse and make sense of all the decisions made by players extracting anonymously people's interests and opinions from their behaviours and actions. Finally, sAI will be able to elaborate all answers to upcoming issues and suggesting predictive possible answers from which the decision makers, an assembly composed by government and citizens, will discuss upon to implement policies.
It could enable citizens to contribute proactively to the real decision making process of the council, of the town, the county or of the central government. By playing they would share their thoughts, beliefs, interests and the activities they think has a major importance. Suggesting and testing possible future scenarios that they develop by themselves.
​​​​​​​
How could this model address the employment challenge of Camden 2025?
Virtual reality will enable policymakers to understand how and where to place infrastructures to grow businesses in Camden. Making Camden an ideal place for businesses to grow. Citizens and business will have the opportunity to point out their perspectives and at the same time empathising with the one another.
People will be able to directly and indirectly act in the policymaking process influencing the final policymakers when it's time to make decisions, ensuring that their voices will be heard. Everyone should contribute to Camden's development.
Policymakers will be able to understand how to make the better decisions, balancing different stakeholders` interests in Camden.

camden in 2025
Everyone should be able to access the work that is right for them.

Immersive serious gamification landscape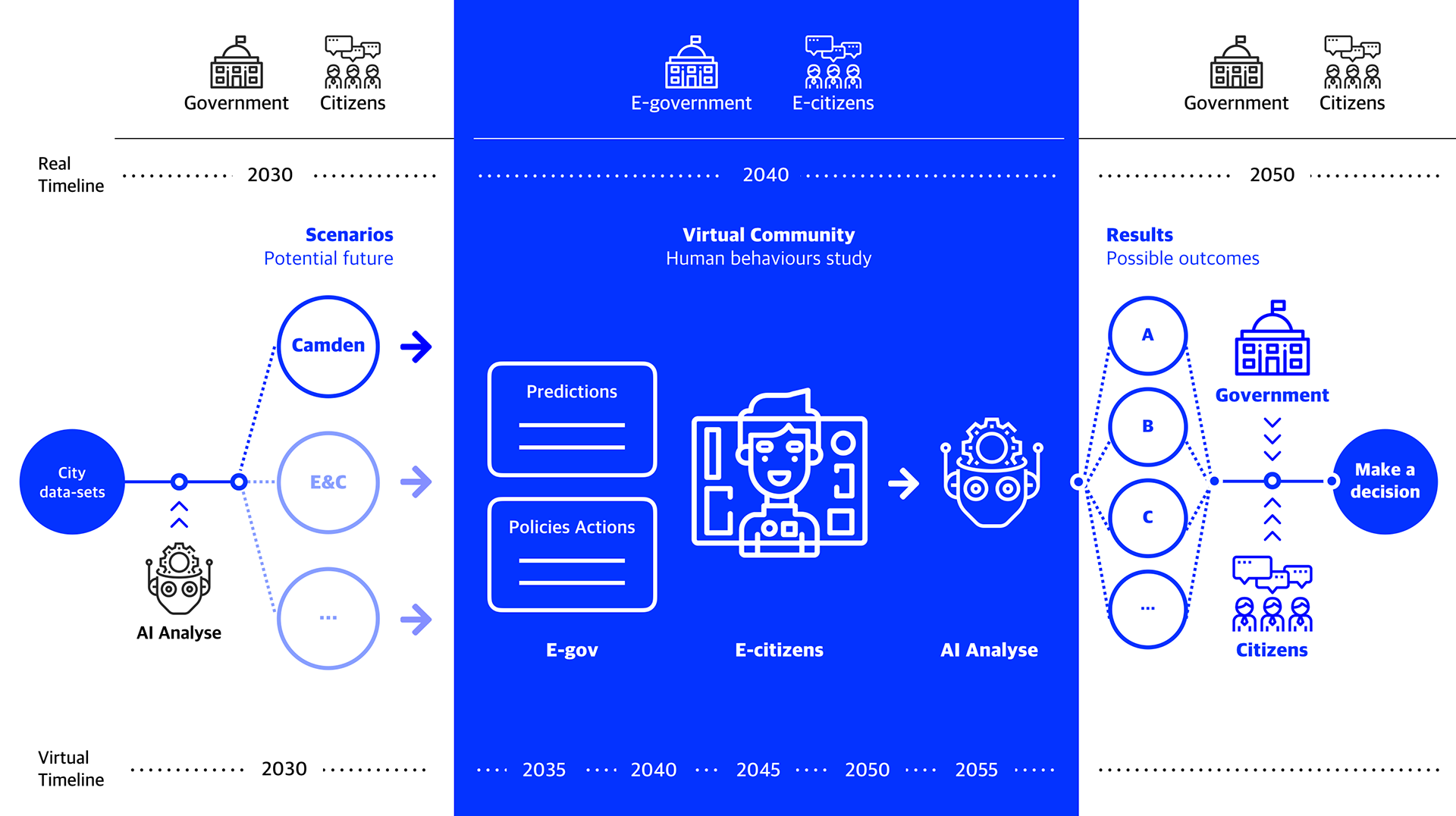 the role of future government & citizens
The governmen
t will act as facilitator and co-creator of policies since their employees would play more a role of managers than politicians. Government itself have the duty to share city's data-sets in an immersive way, hence engaging people in decision making more proactively.
Citizen
s will be both key players in ISG as well contributors in the decision making process. They will make the human factor more predictable in already tested situations that might happen in a possible future.
how can immersive serious gamification
contribute to camden challenges?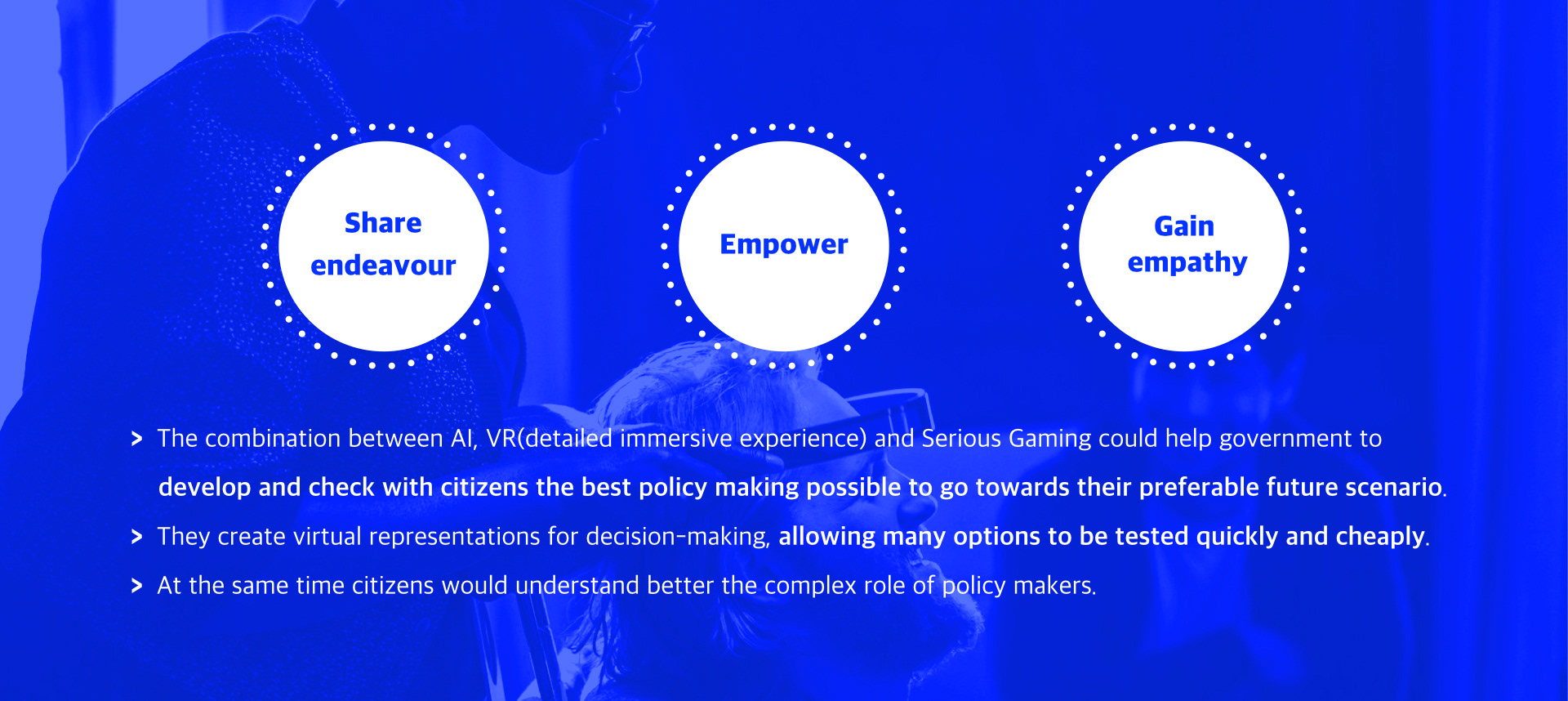 how can immersive serious gamification
contribute to government & citizens?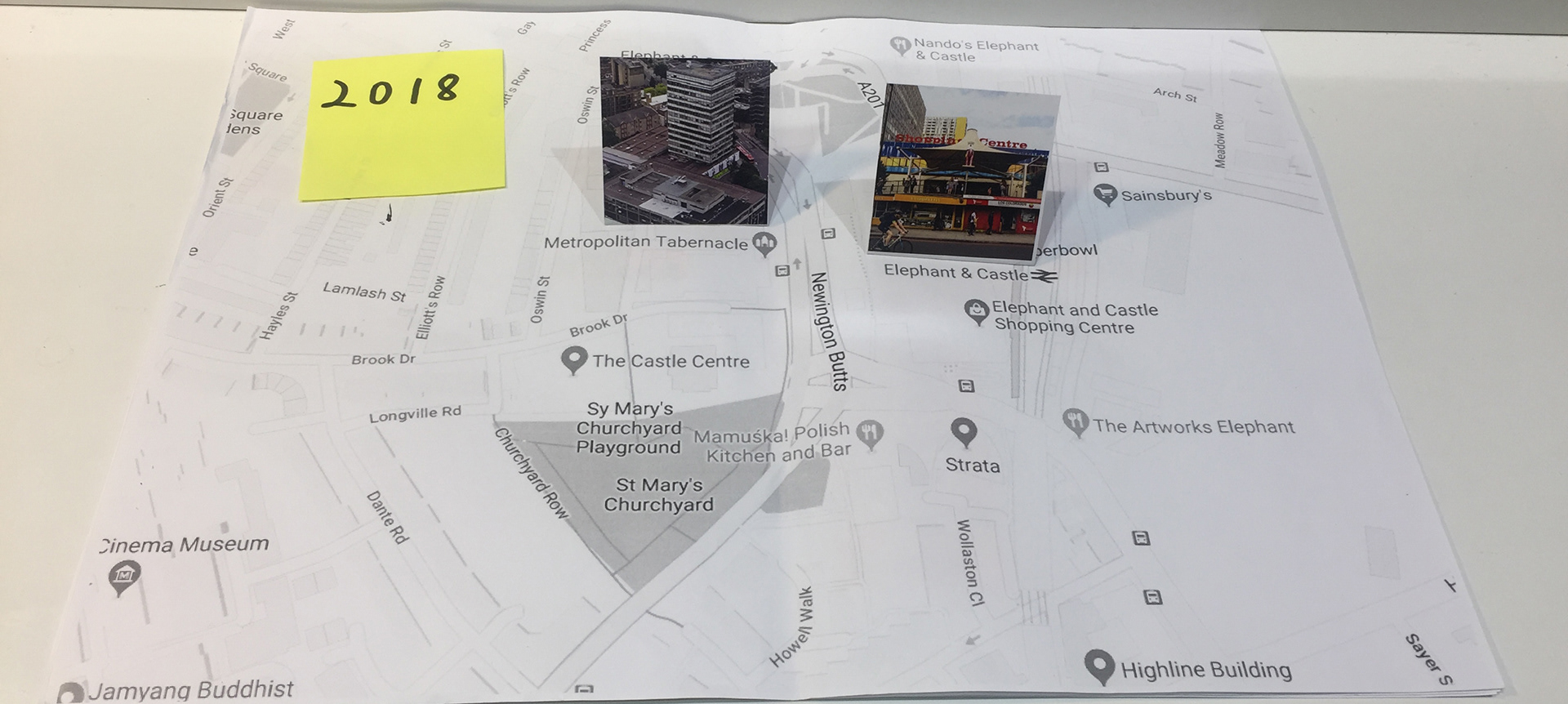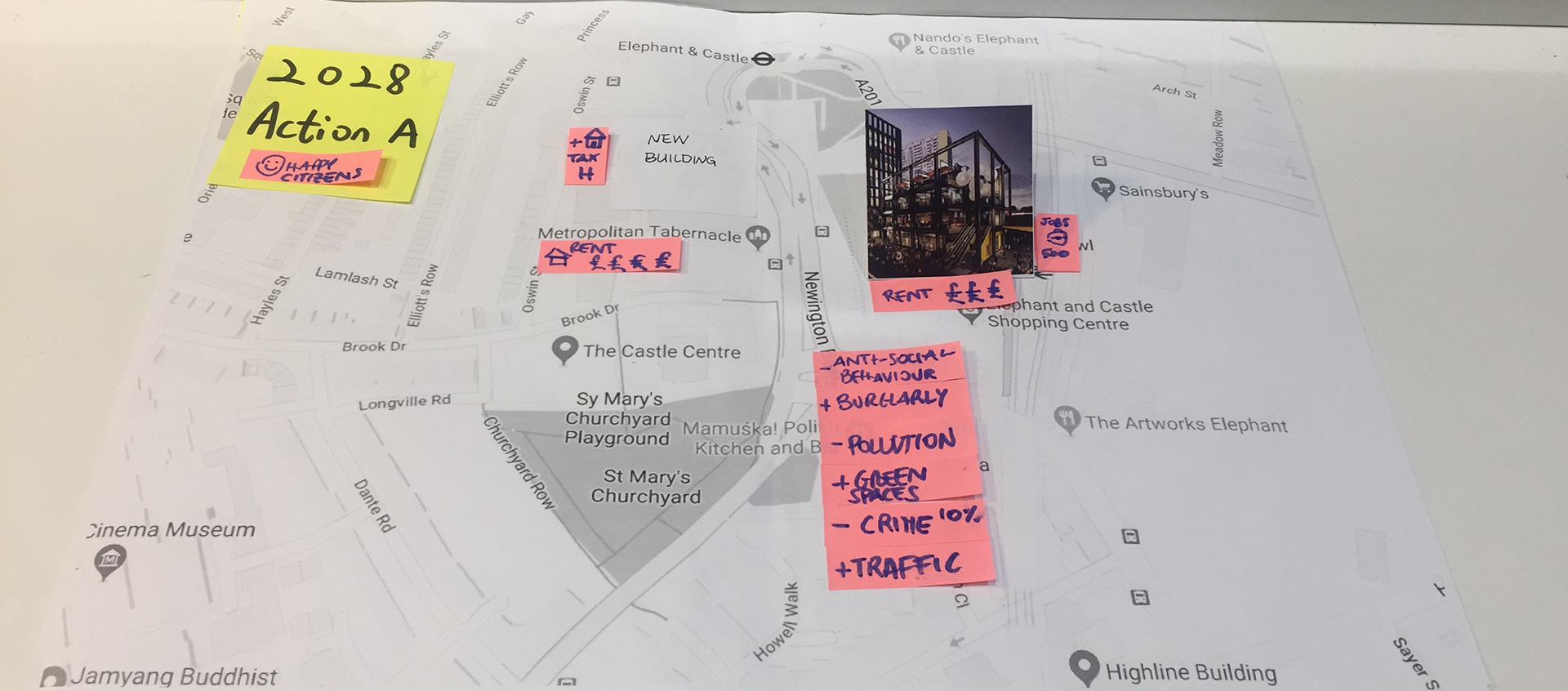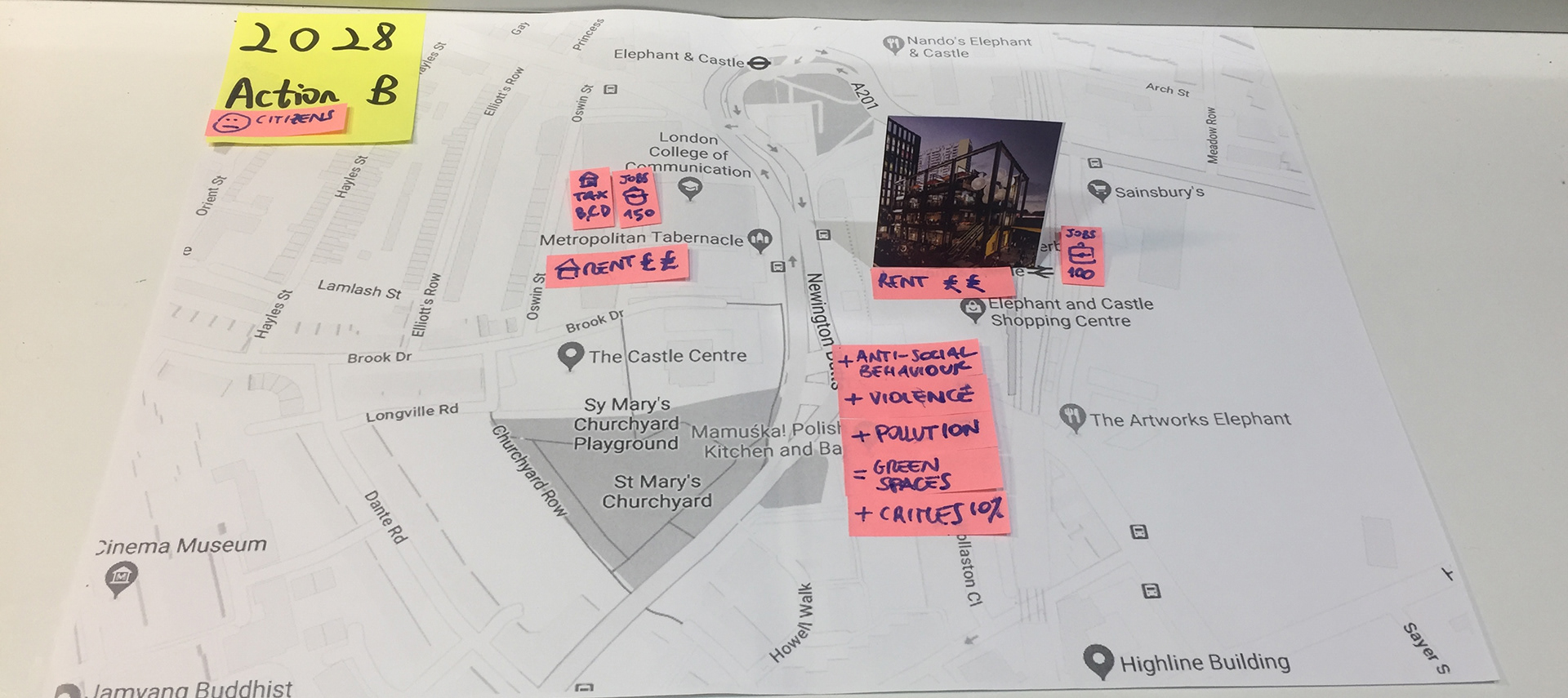 Workshop with different stakeholders at Central Saint Martins